About Us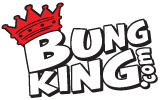 BungKing was started back in 2004 to help supply shops and home builders alike in their quest to build one of a kind bikes. The company was started by Darin Morris, a long time fabricator of custom cars, motorcycles, and many other various projects. As a full time metal fabricator, I had been making all of the custom parts we sell now as we needed them but tended to use a lot of the same product over and over again. Talking to many other shops on the show bike circuit, I noticed that many other builders were doing the same. I started selling a few standard sized bungs and kits for the most commonly made parts, like fender struts and motor mounts. Over the years, I have added many new products and the product line has gone from a few to a few hundred, and I continue to add more and more. BungKing.com is a division of Big D'zigns Fabrication.
The shop has full CNC capabilities but we still have some of the early manual equipment that we started out with as well. The manual equipment is still used for short runs and custom parts for those in need of custom sizes not currently in stock. If you have a custom part, please send us a sketch or dimensions and we can quote it for you.
We, as always, strive to provide the best possible customer service and are here to help you with your projects. Thank you for your business.
Darin Morris
Owner
Please contact us at sales@bungking.com